Release notes – Recruiters
Discover updates and improvements that we've made around the site, and how they've been designed to help you connect with talented automotive professionals
Release notes – Recruiters
More updates coming soon… in the meantime, take a look at what's new!
We recently spotted an issue with email alerts not always showing the most relevant jobs for our candidates; we've now fixed this to ensure your jobs will only be shown to the most highly relevant candidates, maximising your chances of receiving top quality applications.
Job reference numbers will now appear in all relevant emails for recruiters (for example notifications that your job has received an application), helping you more easily identify which advert is being referred to.
We've made some improvements to the job listings pages - these pages now include space where we'll be adding extra information and FAQs about each job type, helping give extra insights for our candidates and helping to bring more users to the site by answering commonly Googled questions about each job role. Keep an eye out as this information will be being added in the near future!
We recently noticed fairly high numbers of incomplete applications on the site, with candidates clearly interested in our vacancies but being put off during the application process. We took a close look at how we could improve this, and we're happy to say that candidates are now able to apply for vacancies quickly and seamlessly via a brand new application process. By encouraging more of these interested candidates to become applicants, we're aiming to give your jobs the best possible response!
The help tours that used to pop up around the site were often commented on as being too disruptive for our users. We've now removed these tours to make your browsing experience easier, and we're working on a more streamlined way to guide our users around the site with helpful tips.
The sign-in process for recruiters has been simplified, saving you valuable time. Simply click "Sign in" at the top right and select "Recruiters sign in" to access your account.
'Your candidates' and 'Suggested candidates' sections within your dashboard are now more interactive than before; click on an individual candidate's name to be taken straight through to view their profile page.*
On-site feedback surveys have been launched for both candidates and recruiters to gather feedback regarding our new features. Please share your thoughts, as we really value your opinions and want to ensure the site is working as well as possible for everyone!
We have completely redesigned the recruiter dashboard, giving you more insights than ever before
Added a real-time notification centre where we'll keep you updated with important account updates
Added the ability to browse candidate profiles in CV Discovery for free; simply get in touch with us to purchase CV download access if you don't already have this
Provided extra performance statistics for your live jobs, helping you monitor performance on a much closer level than previously
Your remaining job and/or CV credits are now displayed much more prominently in your dashboard, helping you keep track of your usage more easily*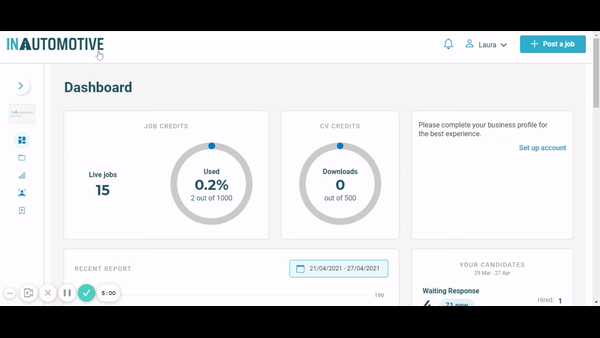 Added 'Your Candidates' section where you'll be able to keep an eye on your pending applicants over the past month*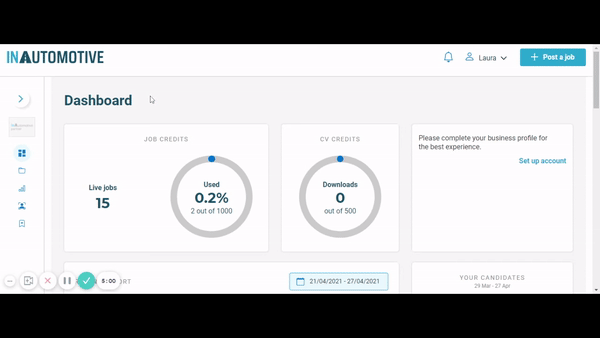 Added a 'Suggested Candidates' section where candidates from our database are recommended to you based on your live jobs*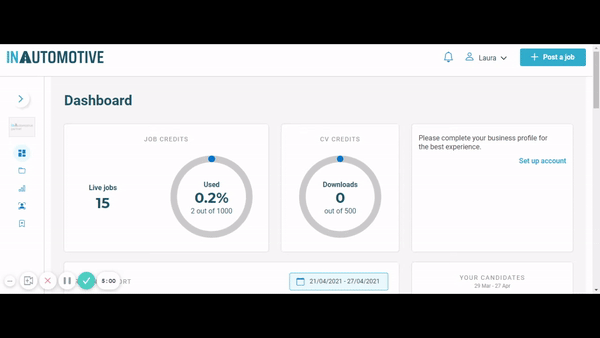 *Subscription customers only
We've introduced a new email preferences section within your settings where you'll be able to manage your communication preferences from us via a single click.
The fields in the "About your company" section are now optional, allowing you to fill in each field within this section at your own pace without having to fill in every field at once.
Added a brand-new 'About Your Company' section which will be carried over to all your job adverts; this is the perfect place to tell candidates more about your company, what benefits you offer, your mission, culture and values, and why they should want to work for you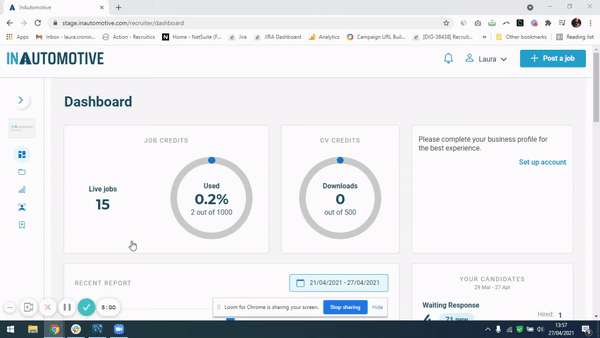 Provided a central place for you to easily manage all your company's billing information including card details and billing address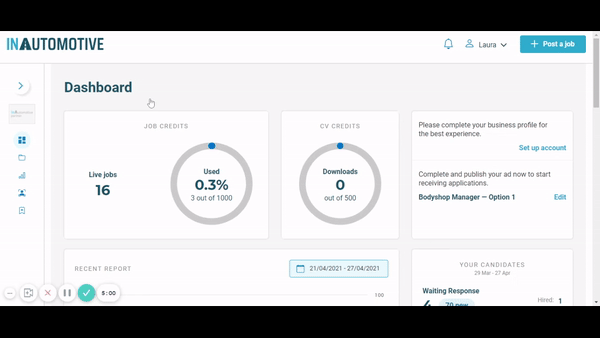 Added the ability to add multiple payment cards to your company's account and select which card to use by default when purchasing Job Boosting products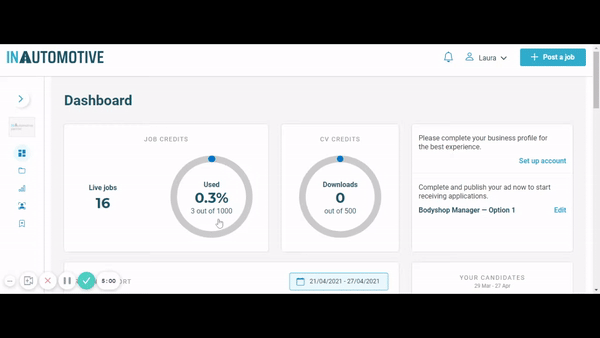 Added the ability to add your colleagues to your company's account as additional users, allowing your team to log in with their own individual details and receive updates and alerts relevant to the jobs they have posted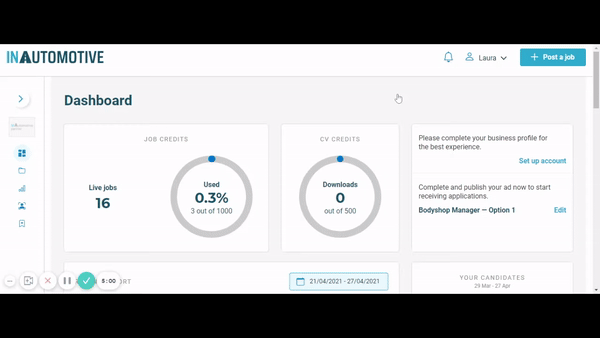 Additional users can be assigned varying levels of access when inviting colleagues to your company's account, allowing you to control who is able to access and edit certain information
Primary users have full functionality on the account; Secondary users are unable to change the company's billing information or card details, add additional users, or purchase Job Boosting products
We've made it easier for you to save your job adverts as drafts without having to meet the minimum character limit on your job description in order to do so.
When creating your vacancies, you now have full control over whether or not to request a cover letter from your applicants.
We have made improvements to the Post a Job process for recruiters who are posting a vacancy for the first time, providing additional transparency in terms of pricing by displaying the checkout price earlier on during the process.
The Post a Job process is also now hugely improved for recruiters using mobile, both in terms of design and ease of use. Post jobs on the go as easily as if you were using your desktop device!
Recruiters are now able to use longer job references - 30 characters max.
You now have more control over who is able to apply for your roles based on their geographical location, for example if your role is only applicable to residents of a specific country or region. Block applications from users based in specific countries, or block applications from all countries outside of the one where the job is based. For any users who fall outside of the geographic area where you are accepting applications from, the Apply button on your role will be greyed out and they will not be able to apply.
You now have the ability to post a job for a minimum of 7 days rather than 28 days, offering you more freedom when hiring for time-critical vacancies.*
*Subscription customers only
Based on feedback from recruiters, we have combined the three job description fields within the Post a Job process in order to make the job posting experience more straightforward. You can now put your entire job description into one field, allowing you more freedom to paste in pre-written descriptions if necessary.
We have redesigned the job posting process from scratch to make it more user-friendly
Added a guided job advert builder, providing you with helpful tips at each stage to help you craft a quality advert that is more likely to attract applicants
Added a job preview panel so that you can see how your job advert will look as you're building it, avoiding any surprises once you have published your advert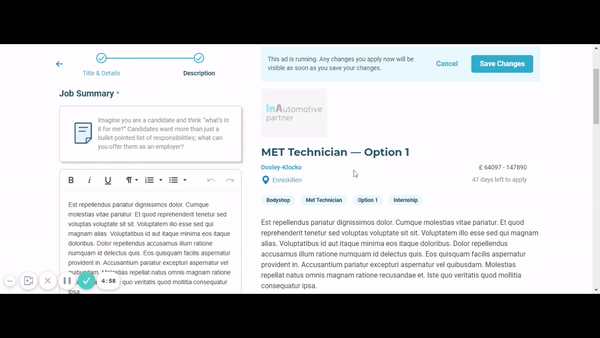 Added the ability to save draft jobs - if you're interrupted whilst partway through creating an advert, there's no need to worry about losing your work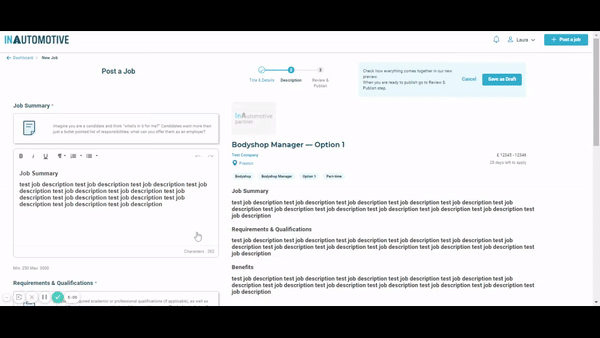 Added dynamic daily pricing for users who are posting one-off jobs, ensuring you pay the best rate for your advert
Implemented completely integrated payment processing with one of the world's leading payment providers, giving you a seamless payment experience on the site
Three new response boosting features have been launched, allowing you to heighten your jobs' exposure on the site and increase the chance of attracting top quality applicants.
Featured Job – your job will appear highlighted above all unboosted jobs in your chosen category.
Sponsored Job – you job will appear highlighted above all unboosted jobs in the search results when a candidate performs a search matching your sponsored keyword and location.
Job of the Week – our highest level of exposure. Your job will appear in a dedicated section on the homepage, as well as at the very top of all search results no matter what type of search a candidate makes.
Discover more about response boosters here.
Previous issues experienced by recruiters using multiple 'OR' statements when searching for candidates in CV Discovery have now been fixed.
We've launched a brand new partnership with TopCV, the world's leading CV writing service, allowing our candidates to receive a free review of their CV. This should lead to higher numbers of top quality, professionally organised CVs from automotive professionals which recruiters using InAutomotive will benefit from.
Bug fix - using brackets within a Boolean search query was causing some queries to break within CV Discovery. This has now been fixed.
Refinements have been made to the design of the candidate profile, displaying candidates' experience and skills in a document that is all-round more sleek, professional and easier to navigate.
We have expanded the room available in the fields within the candidate profile. This will allow candidates to elaborate further on their skills and give a fuller picture of their achievements, improving the quality of information you'll see in CV Discovery.
We are now using improved CV parsing software, allowing us to collect information from candidates' CVs much more accurately in order to display this information in their InAutomotive profile when they create an account. This should lead to more complete, detailed and accurate information on display for you within candidates' profiles in CV Discovery and the Talent Pool.
Fix - We've corrected an issue with duplicate location names appearing in CV Discovery search, improving the accuracy of your search results.
Improvements have been made to the functionality of Boolean search within CV Discovery following testing and feedback from our clients: any terms which you include within quotation marks will now return only exact match results. For example, searching electric vehicle sales will return results which contain any of these words anywhere in the candidate's profile. Searching "electric vehicle sales" will show only results which contain this exact phrase in the candidate's profile.
Improvements have been made to the search filters within CV Discovery, letting you expand and minimise the lists of filtering options more easily.
We've increased the maximum radius on our location search to 100 miles, allowing you more flexibility when searching for candidates by location.

Fix - Searching for candidates by region or country in CV Discovery was previously failing to display results from cities within those regions. This has now been fixed.
Fix - The Brand filter in CV Discovery was previously experiencing problems when users tried to expand the filter to view the full list of options. This has now been fixed.
We have further clarified the section of a candidate's profile where they input their current salary, to specify that this is for their annual salary. This has been clarified to ensure you are seeing accurate salaries when browsing profiles within CV Discovery.
We have overhauled our user data, removing out-of-date and inactive profiles to ensure the relevance of your search results
A quality threshold has been added to ensure that only candidates who have added sufficient profile information can be found via CV Discovery
Improved the searching experience using state of the art search engine technology
Added the ability to select which specific areas of a candidate's profile are to be searched for your keywords; whether just their key profile information, or their work history and/or professional credentials and qualifications

New filters have been added allowing you to filter your search results by very specific criteria, for example number of years' experience, willingness to relocate or desired work location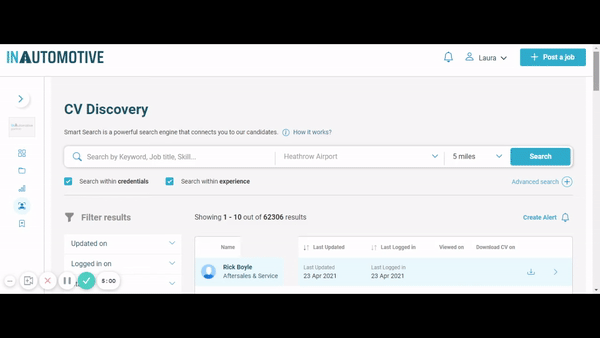 Your recent searches and saved searches are now displayed upon opening CV Discovery, allowing you to repeat common searches at the click of a button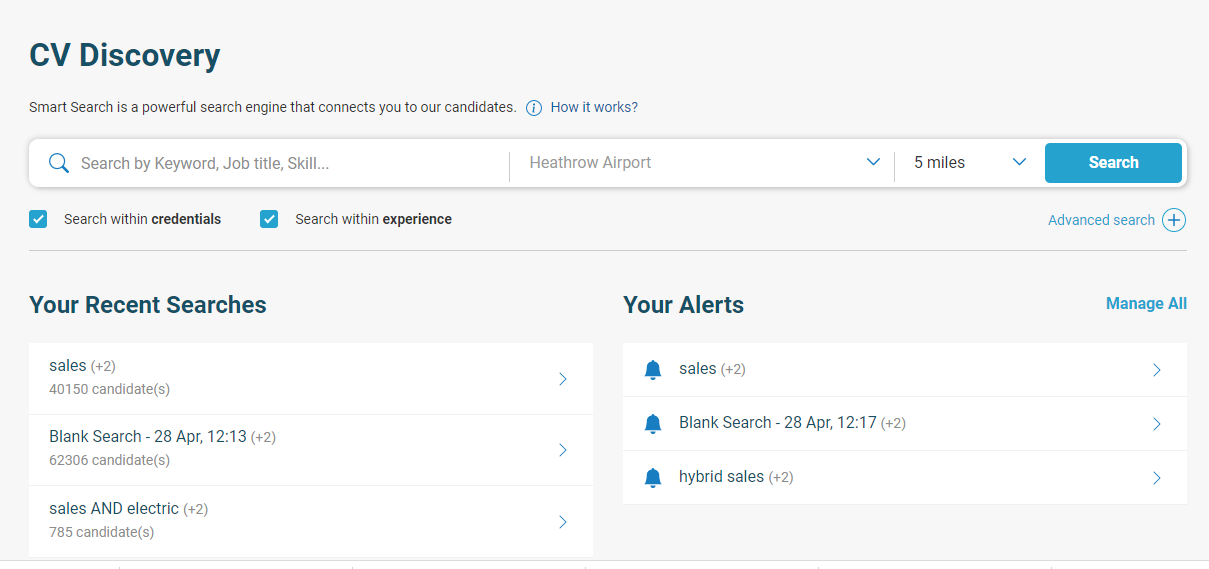 Visual cues have been added to help you identify candidates you have previously viewed or downloaded, avoiding wasted time

Candidate profiles have been launched as a brand-new addition to the standard CV, which does remain available for each candidate. These candidate profiles have been designed to showcase candidates' skills, interests, qualifications and experience in a standardised, engaging and easy-to-read format that lets you easily pick out the information you need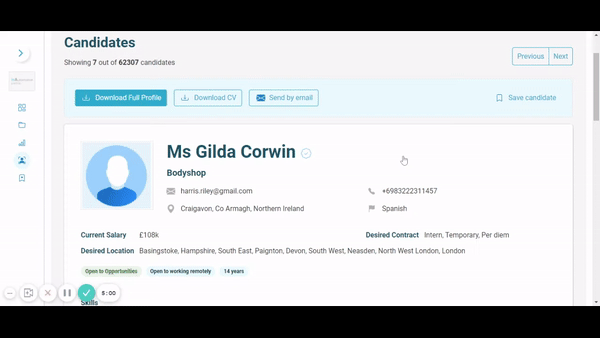 A brand new section in your account where you can save candidates to a Talent Pool with the click of a button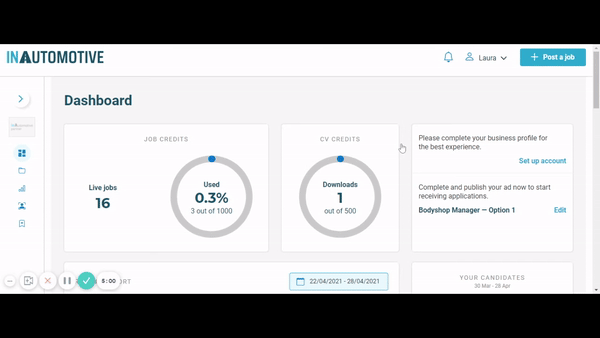 Simply click the Save Candidate button on the right-hand side of a candidate's profile to add them to your Talent Pool, helping you keep track of candidates who may be suitable for future job openings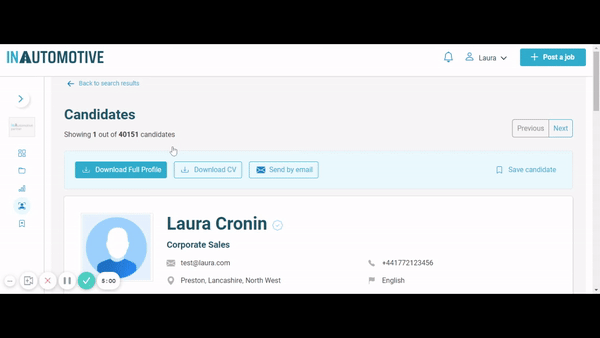 Added the ability to search amongst your saved candidates by first name, job category, or the title of the job they have applied to, helping you easily navigate high volumes of candidates and saving you browsing time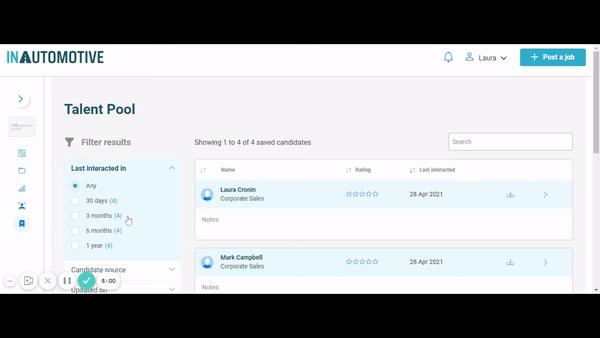 Added the ability to filter your saved candidates by factors including number of years' experience, how recently they have updated their profile, their location, and more, helping you easily determine if anyone in your Talent Pool meets your specific requirements for a new job opportunity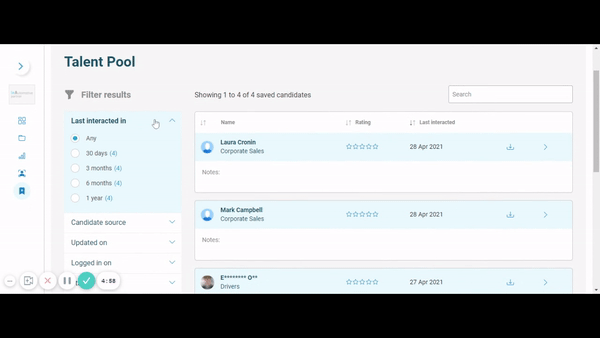 Added the ability to add notes and ratings against your saved candidates; these are only visible to you and your fellow account users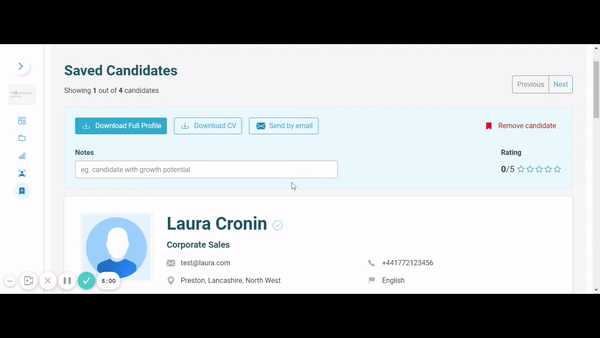 Add notes against candidates to remind yourself of your previous communications with them, or what made you save them to your Talent Pool; alternatively, communicate with your team by saving candidates along with notes that reference which of your colleagues' roles they may be suitable for
There are now two brand-new functions within the Jobs Area, designed to give recruiters additional transparency and control when it comes to their vacancies.
The first of these new pages is the Manage page, accessible via the three dots to the right of each job within the Jobs Area. This page allows you to monitor the end date of your vacancy and your remaining credits; keep an eye out for further updates to this area in the near future, as we'll be giving you more control over your advert's duration from this page.
The second of these new functions is the Duplicate job function, which is also available via the three dots to the right of each job in the Jobs Area. This allows you to create a duplicate copy of your chosen job and make any necessary tweaks before setting it live, saving you from creating new vacancies from scratch every time.
Changes have been made in order to streamline the navigation process for signed-in recruiters; when editing, boosting or viewing the applicants on one of your roles, clicking the navigation arrow at the top left of the window will now take you back to the jobs area rather than all the way back to your dashboard.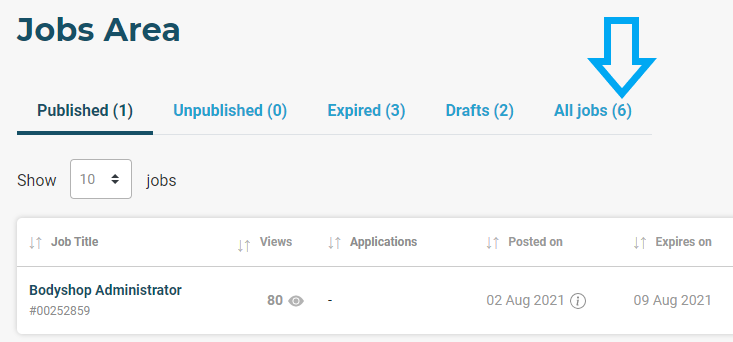 You'll now see a marker next to each tab across the top of your Jobs Area, giving you a preview of how many roles you currently have within each of these statuses without having to click into each tab to see this information.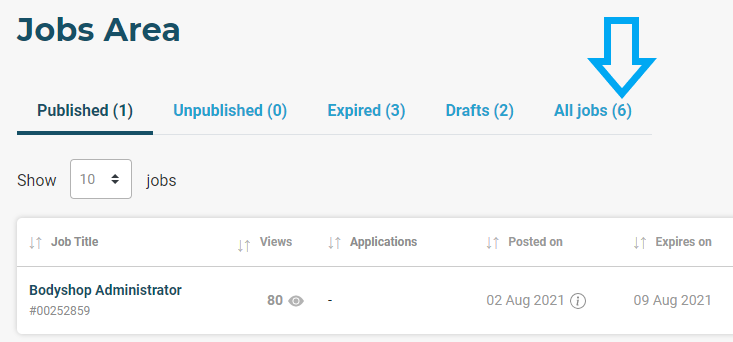 You now have the ability to search amongst the vacancies in your jobs area using your jobs' reference numbers, as well as by title.
Cover letters from your applicants are now displayed more prominently, appearing directly above an applicant's profile whenever they have chosen to submit a cover letter.
We have implemented a redesigned jobs table which gives you detailed information on each job's response to date*

View your jobs sorted by their current status for ease of browsing; Live jobs, Unpublished jobs, Expired jobs, Drafts, or All jobs.*

Added three self-service advert boosting options to help you take control of your response; simply click the Boost button to the right of each job to access your Boost options. See the Response Boosters section above to learn more about these options

Added the ability to manage your applicant pipeline, moving candidates along the pipeline with a single click and automatically notifying them of their progress at each stage, saving you time and streamlining your candidate communications
To move a candidate along your pipeline and send them an automatic update, simply click the dropdown menu to the right of your chosen candidate and change their status to either Screening, Interview, Hired or Rejected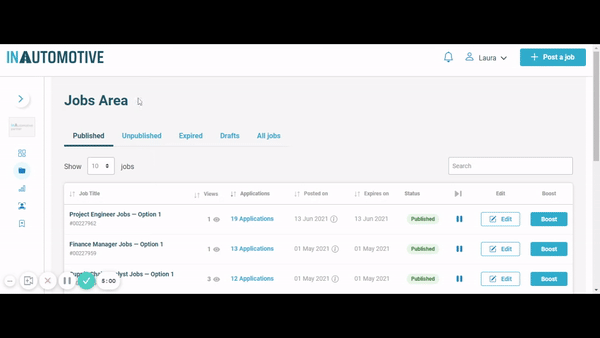 View your applicants sorted by their current status in the tabs across the top of each job's Applications area, helping you easily manage your pipeline.

*Subscription customers only
Recruiters can now search by reference number amongst their jobs within the reporting section of the dashboard.
We have added a dedicated Reporting section to your account which offers in-depth insights into your performance at both account level and individual job level*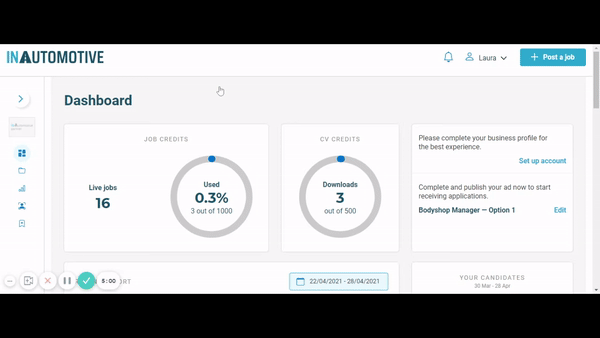 Added detailed job-by-job performance charts which offer you actionable insights into how you can improve individual jobs' response, benchmarking your job titles, descriptions and salaries against other jobs on the site and offering suggestions for improvement*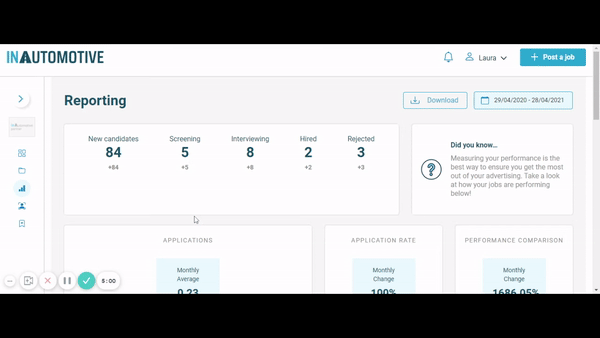 Added a pipeline summary helping you keep track of your pending applicants and how many people you've moved along to each stage of the application process*

Added topline performance benchmarks, helping you compare your jobs' conversion against other companies on the site*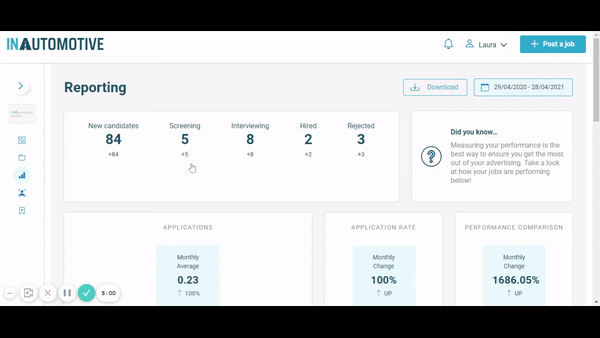 Fix - Any manually-inputted job reference numbers were previously not appearing against your list of jobs within the Reporting section; this has now been fixed.
*Subscription customers only
It's important to note that the current version of the site is by no means the finished article, as we'll always be striving to improve and continuing to make regular updates as we go forward. Keep an eye out on this page to ensure you don't miss out on future updates!
In the meantime, we would greatly appreciate any feedback you may have regarding the site, as this will help us continue to improve and ensure we're providing you with the best possible experience. If you would be happy to spend a few moments sharing your feedback, please click here.