The government continues to stress the need of social distancing, and avoiding social gatherings where possible. However this does make it harder for those hiring to interview potential employees.
This doesn't mean that recruiting top talent in the motor industry has to stop, though. There are ways to connect despite physical meetings being a no-go. You can still interview your candidates online or via your phone, through video calls.
First, let's look at how you can incorporate video interviewing into your process, and what to use.
Use your smartphone
Today, the technology we have available on our smartphones is impressive. One of the capabilities it provides is being able to video call another person. If your candidate doesn't mind you doing it, you can video call them from your smartphone via Whatsapp, Facebook Messenger, or you can download a video app on to your phone and use this to connect with them.
Note: If you're using a particular app, which most likely you'll need to, don't forget to ask the candidate if they can get the app in the first place before you assume they can. They may not even have a smartphone…
Use video software/platforms
There are popular video tools around that you can use via your laptop or computer. Skype is a very popular platform for video calls. Slack is another platform which works well if multiple people need to be on the call too. Gmail also allows you to video call other people, if you have that, and the candidate has a Gmail account. Go To Meeting and JoinMe are popular alternatives too. A lot of companies are also using Zoom meetings, which is a really affordable platform.
Below, we've put together some key tips on interviewing your candidate via video.
Let your candidate know in advance
While some candidates may not be as up to date on technology, many of them may not have even considered that you would be holding a video interview with them either – so let them know in advance so they can prepare.
You'll confirm that they have the device you need them to use ahead of the interview. Although most video apps can be used on your mobile phone, for an interview you may prefer it to be held on a laptop or computer so it appears more formal.
Next, you'll need them to get the software you would like to hold the interview on. For example, if it was Skype, they would need to download the app either on to their mobile phone or laptop in order for you to call them on it.
The candidate could also be new to the software of choice, so you'll need to provide them instructions on how to use it, and access the interview.
You may also need to ask your candidate to test that their device will work ahead of the meeting, for example, testing that their microphone works and their camera works. Provide them with instructions on how to do this too. They may also want to test things like sharing files through the online meeting, if necessary.
Holding the interview
When it comes to the actual interview, there are a few more preparations to consider just before you meet with your candidate.
Scan your surroundings
Since many of us are working from home at the moment, you may want to consider your surroundings before the call. Will it look okay? Is there anything that is potentially embarrassing or unusual in the background – or is it just a mess? Tidy up anywhere the candidate will be able to see behind you, so it looks professional.
Lighting and the general quality of your camera needs to be taken into consideration too.
Consider what you'll wear
Similar to checking your surroundings, candidates are usually expected to look neat and tidy for an interview – the same goes for you. You could give off a bad impression of your company if you appear on the call with messy hair, and untidy or informal clothing. Consider your appearance ahead of the interview.
Keep noise to a minimum
If you have pets, other people or children at home with you, find a quiet room where you won't be interrupted. Interviewing candidates is important, you need to ensure you're giving them undivided attention – don;t let them feel like they made a mistake interviewing with them if you're distracted by noises every 5 minutes. Many candidates have turned down a role because they felt a poor recruitment process was a reflection on the company itself.
Switch your phone off too.
Check the essentials
Don't forget these small tips:
It's rude to just get up and leave the interview, so if you want anything ahead of the interview, make sure you have it in advance e.g. water, a brew, a notepad
Check your internet connection is working okay
You might also want to close any windows, tabs or applications on your computer that you're not using.
Have a copy of the candidate's resume in front of you
Check your webcam and audio
You're live! What else can you do?
Now that you're ready to start your interview, we have just a few more tips:
Be aware of your body language: Eye contact is still essential during a video interview. Make eye contact with candidate's to show that you're engaged. Keep your mood and responses upbeat. Sit in your chair with your back straight. Rest your arms in your lap or on the desk. When you're speaking, be aware of how you look and avoid fidgeting or letting your gaze drift away from the screen.
Nod and smile: When you're listening, nod and smile when appropriate to communicate that you are providing your full attention. Use hand gesture when it feels appropriate and keep your movements close to your body.
Make notes: If you're interviewing multiple candidates, you may want to keep notes on the candidate's CV of what you liked about them, their strengths, weaknesses, skills, salary expectations, experience etc. that you've taken from the interview
Don't panic if things go wrong: Interviews can always have their hiccups – this is no different, if not worse for video interviews. Make all the required checks ahead of the interview, but if things go wrong during, for example, someone walks in while you're on the call, noise interrupts the interview or your microphone or camera stops working, just calmly cancel the call and restart it, if need be. Just be human about it, the candidate will likely feel more at ease if they see that you too have hiccups at times.
Thank your candidate at the end: Candidates have taken time out of their day to meet with you, so it's always polite to thank them for taking the time to chat with you.
Interested in video?
Want to incorporate more video into your recruitment process? Ask your candidates to send in a video cover letter alongside their CV. It's much more interesting and gives you an insight into the individual. Find out more here.
Add videos to your job adverts 
Recruiting agencies report 800% more engagement with job postings that have video embedded. – Recright.com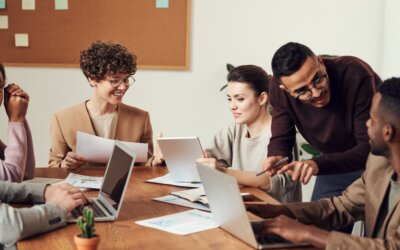 Company culture defines the persona of a business. It differentiates an organisation from the others and includes not only the work environment, but also the way employees interact with each other, how teams collaborate, expectations, the values, vision, and mission...