Every job advert is (or should be) unique to its company, and the role in question. Recruiting for top talent is stressful, and a lot of the time, hiring managers are against the clock to source the perfect replacement, or the most experienced candidate for the role.
If you find you're not getting the right amount of relevant applications, you need to ask yourself, is your job advert sparking interest in jobseekers? If it isn't, this is something you should remedy quickly.
In a long list of job adverts, you need to capture a jobseekers attention straight away and then spike further interest with a captivating description of the position.
Ask yourself:
Does my job ad include the specifics of the role?

Is my job ad relevant to jobseekers in the industry?

Does my job ad answer the questions candidates ask?

Why should they apply to my advert above all the others out there

  
The good old days of writing an advert for what you need are gone. If you want a job advert that gets applications, you're going to need to sell the company and the role to skilled professionals. Read on for more tips on how to improve your job advert:
Salary band
Ever wondered just how essential a salary band is for your job advert? We ran a survey with over 300 automotive professionals last year, to see whether visibility of salary affected their decision to apply for a job.
70% said they would not apply for a job that didn't display a salary band.
We also asked them if they preferred all job adverts to disclose the full salary details.
89% said Yes.
Finally, we asked them 'Would you prefer if job adverts displayed a salary range (for example, £20,000 – £30,000) or the exact amount (for example, £27,355).
50% said they would prefer an exact amount displayed (e.g. £25,000).
And here's a bit more information to convince you why including a salary band is essential if you want more applications:
According to our research, job adverts that displayed a salary were twice as likely to get more views than a job advert that didn't display a salary
Most people looking for a new job are hoping for a better overall offer, including salary. So if you're offering less than the average salary, your job advert likely won't convert as well as those who do offer a competitive salary. Use our salary guide to benchmark salaries for your role
Displaying a salary now saves unnecessary conversations at interview stage later. Applicants know what to expect, so there's no ambiguity
If your job advert is listed amongst 50 others for the same role, all of which display a salary, your role will likely fall by the wayside, receiving less clicks than others due to a lack of enticing information – money talks, so don't forget the essential piece of information for your job advert
Spark an interest
Put yourself in a jobseeker's shoes. You type in a search term like 'Mechanic jobs' into Google. Then what appears is an array of options to jobs sites. you click on to a jobs site…for our sake, let's say InAutomotive is the choice of website! What you'll see next is a wide variety of mechanic jobs. So from here, how does a jobseeker decide on which job advert to click on? Well, from the research we've completed, the initial information that stands out is A) The job title, and B) The salary band. After these have proven attractive, the candidate will select that job and read more into the job description. Job searching is a long and tedious process, so you have to consider the fact that most jobseekers will skim read the job advert first to catch any information they like the sound of. This might be benefits, flexible working options, company perks, or it might be based on skillset. So these are all crucial elements you must consider elaborating on to make a potential applicant stick around.
Be concise and clear when creating your job advert, and don;t leave any stones unturned – ask yourself what information you might wish to see when applying for a new job. Then you can build your job advert from there.
Time really is of the essence here – you have to capture their attention quickly – give them a reason to read on. Whether it's boasting your excellent reputation, company culture, or the benefits you can offer. If you know you have a strong offer on the table, don't hold back on revealing it until interview stage – you could miss out on your ideal candidate.
What's in it for them?
Similar to our previous points, candidates want a reason to apply. Yes, an outline of the role is essential, but there is so much more that you can add to your job advert to reign in some interest. Ask yourself the following:
What makes you different?

What are the extra benefits? E.g. company cars, discounts etc? Overtime available?

What holidays can you offer?

Good working hours? Don't leave that out!

Are there any company perks?
Is it a good location?
What's the company culture like?
What are you looking for?
It's very important that you outline your requirements clearly and concisely. Being direct means you are more likely to attract those with the right skills. Vague job descriptions will only attract generic CVs. Take some advice from the number 1 automotive job site in the UK – niche works. The more specific your job advert, the better the chances you have of attracting top talent. Particularly if you require individuals with niche qualifications or industry experience.
Company culture
Jobseekers want to know that wherever they are going is a positive environment. Ask yourself, why should someone apply to my role – a percentage of that answer will be surrounding the job, but a large portion of it should also boil down to the type of company you have, and why anyone would enjoy working there. Candidates respond to information about motivational, career developing environments they can thrive in – large team? Great. Work hard, play hard? Even better. Appeal to human nature and identify the key reasons why a candidate would love to work for your company.
Make it sound like you
Vague, generic job adverts do your company no justice at all. Is your company great? Prove it, with a unique and creative job advert. If you were Mini, you would likely boast your quirky brand, but even if you're not, there should be something about your job advert that stands out against the rest.
Is your company energetic? Fast-paced? Ahead of the curve? Bring that to light, and already you have a uniquely developed job advert that reads totally different to the other generic job ads on Indeed, CV Library etc.
If you have any questions about how to improve your job advert, we're just a phone call away: 01772 937768.
Want to post a job? It's easy, just click the button below to get started!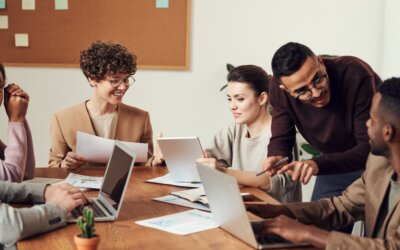 Company culture defines the persona of a business. It differentiates an organisation from the others and includes not only the work environment, but also the way employees interact with each other, how teams collaborate, expectations, the values, vision, and mission...